Group Museum Exhibits

"Small Works Great Wonders" at the National Cowboy and Western Heritage Museum in Oklahoma City, Oklahoma

"Changing Hands II" at the Museum of Art and Design in New York City, NY

"Winter Camp" at the National Cowboy Hall of Fame and Western Heritage Center in Oklahoma City, OK

"Ladies Choice" at the Bradford Brinton Museum in Big Horn, WY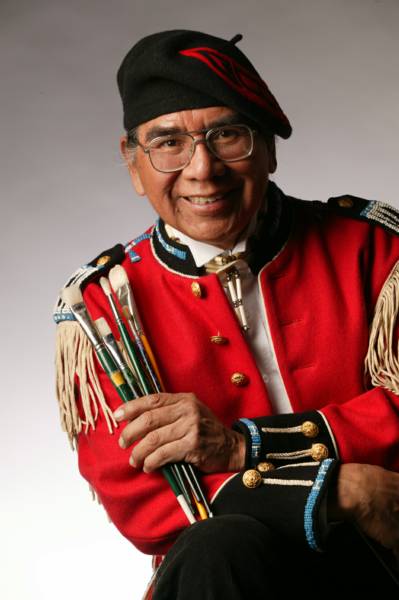 Awards and Recognitions

2012  Inducted into the Oklahoma State University Alumni Hall of Fame

2010  Interviewed for OSU's "Art & Soul" exhibit, video on YouTube

2009 Named as an Oklahoma Living Treasure by the OU Health Center Foundation

2009 Awarded the Lifetime Achievement by NAASA

2009 Best of Show, Five Civilized Tribes Museum

2009 Best of Division and 1st place SWAIA Indian Market

2007 Best of Show in the Masters Show at Five Civilized Tribes Museum

2005 SWAIA Santa Fe Indian Market official poster artist

2003 Honored One at the 17th Annual Red Earth Festival

2002 Oklahoma State University Distinguished Alumini Award

1993 & 1994 Featured Artist for the Smithsonian's National Museum of the American Indian"s Annual Aspen Benefit

1993 Heard Museum's 34th Annual Featured Artist at the Annual Heard Museum Guild Indian Fair and Market

1987 Red Earth Grand Award at the Red Earth Festival

Represented Absolut Vodka Oklahoma in its USA Today Campaign

  Benjamin Harjo Jr is considered one of the nation's leading American Indian artists, often called the "Picasso of Native American art." He began his studies at the Institute of American Indian Arts in Santa Fe, New Mexico and graduated from Oklahoma State University with a Bachelor of Fine Arts in 1974. With a career spanning over 30 years, Harjo has received many prestigious honors and awards. His work is sought by private collectors and museums and can be viewed in public collections at the Fred E. Brown Collection at the Oklahoma Museum of Natural History, Red Earth Center, Gilcrease Museum, Wheelright Museum, and the National Museum of the American Indian at the Smithsonian.  He is Seminole and Absentee Shawnee.

Contemporary Southeastern Indian Artists

Native American Painters of the 21st Century: The Works of 61 Artists

The Biographical Directory of Native American Painters

Sharing the Heritage '94: American Indian Art from Oklahoma's Private Collections

  Solo Museum Exhibits

"Art & Soul" at OSU's Gardiner Art Gallery, Oklahoma State University

"The Earth, the Moon and the Stars Above" at Wheelwright Museum in Santa Fe, NM

"The Spirit of Color and Line" at Mabee-Gerrer Museum in Shawnee, OK   

Published Works

The National Museum of American Indian

For a complete list of Benjamin Harjo Jr.'s upcoming exhibits, gallery showings, and markets, visit
Exhibits & Shows
. Fine art for purchase can be viewed at
Originals
and
Prints & Accessories.
For more information or to make a purchase, visit
the Contact
page or email barbaraharjo@att.net.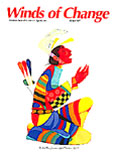 Cover Artist, Winds of Change Magazine, Winter 1997